FREE EBOOK…"Franchisee Lead Generation Secrets Revealed:
How to Evaluate, Select and Manage Portals"
FREE EBOOK…"Franchisee Lead Generation Secrets Revealed:
How to Evaluate, Select and Manage Portals"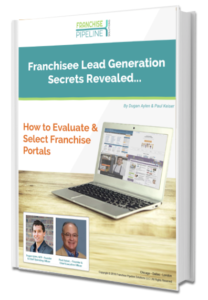 Almost everything about franchisee lead generation portals bedevils brands. This informative ebook exposes 51 lessons, tips and yes, a few secrets to mastering franchisee portal performance. We've pulled together over 10 years of best practices we use every day to manage this challenging lead generation channel.
Please fill in this simple form to download the eBook:
* These fields are required.